Fundraising is an essential part of many small businesses, advocacy groups, clubs, and sports teams. Not only do they bring in money, but they also raise awareness for your business, cause, or organization. They provide a great way to bring together the community around you. When planned correctly, they can be successful and uplifting events for everyone involved.
A common problem with fundraisers seems to be what to sell or give away. The items used at fundraisers have to be attractive to your prospective funders, as well as have some real value and be a fun conversation starter. You have to provide them with a compelling reason to fund your cause. Custom lapel pins are the perfect solution to this problem.

Why Pins?
Custom pins are small, customizable, and easy to make. You can design them to be as classy as you need them to be, and they make for the perfect subtle fashion statement. Showing pride in your achievements or support for a certain cause or movement is easier than ever with lapel pins. They may be small, but custom pins can be huge for your fundraiser.
Pins are the perfect conversation starters. An attendee of your fundraiser would always have a story to tell about it, whether it's how and why they got the pin or what your organization stands for. It's a perfect way to get your brand out there and people talking about it. When it comes to selling them, pins are a perfect opportunity for a passerby to donate money to a good cause and walk away with something to show for it.
Schools, Clubs, and Sports
Now more than ever, it's difficult to find public funding for extracurricular activities. More and more school clubs and sports teams are turning to traditional fundraising to be able to fill gaps in their budget. Sports teams facing cuts can use team pins showing their logo or mascot as a great way to raise funds while also building school spirit.
The arts always seem to suffer the most when it comes to budget cuts. People have a harder time seeing the value in the arts as it's more intangible than the value of sports, or academic extracurriculars. Pins offer a fun and simple solution. Art students can create custom pin designs to sell in their school's bookstore, cafeteria, or to give as tokens of appreciation to their boosters who head all their fundraising efforts. This allows them to not only show their talent and value, but also raise the funds they need to support their clubs. These pins can grow to become very meaningful to some people. They can be collected, and as the years go by they grow in sentimental value to those who choose to keep them.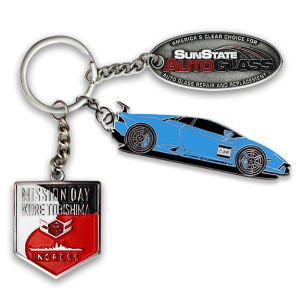 Raising Awareness
Fundraisers aren't always organized just to raise money, they can be used to raise awareness as well. Awareness is crucial for any organization. People will want to know what it is they're supporting, and raising awareness can make or break your supporter base. Inviting people to learn more about your cause is your chance to get them on your side. For this reason, making your donors feel like they are a part of something is crucial to them wanting to share more about your cause with their friends or others. If you intend on giving away gift bags at your event, pins are the perfect inclusion. The keepsake will keep your event on your guest's mind. No matter how you use them, custom pins are perfect for your fundraising or awareness-raising needs.
Fundraising can be a complicated process. Make it easier than ever by spearheading your efforts with a beautiful custom lapel pin today. Our quote form is free, easy, and quick!